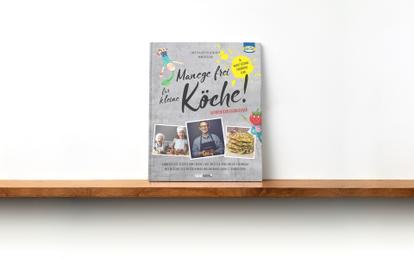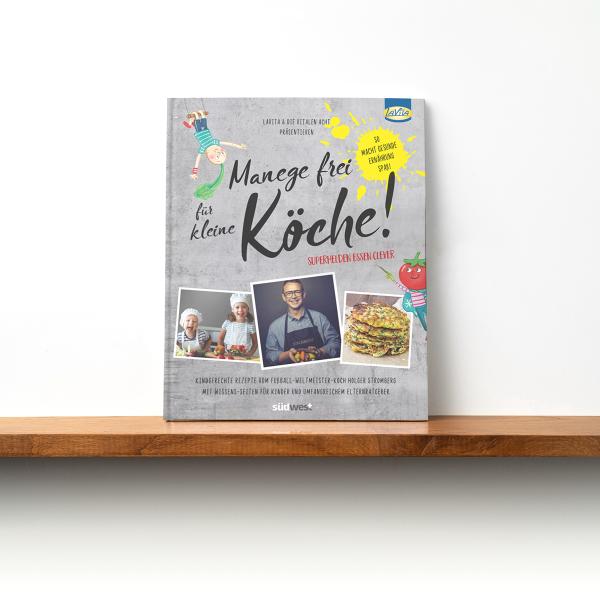 LaVita Kinderkochbuch "Manege frei für kleine Köche"
From the ABC of vitamins and the secret stars among fruit and vegetables to treacherous sappers of energy: "The Vital Eight" guide you through the first part of the book in an entertaining way with exciting nutritional knowledge, puzzles and funny and educational short stories. Holger Stromberg, chef to football world champions, presents child-friendly, healthy recipes with "super powers". The guide for parents shows how a healthy diet can work better as part of day-to-day life.
x
Kostenloser Versand innerhalb DE und AT
The full purchase price of this limited LaVita special edition goes to BILD hilft e.V. "Ein Herz für Kinder"
Entertaining and child-oriented knowledge about healthy eating - from the ABC of vitamins to the secret stars in fruit and vegetables, energy vampires and the origin of fruit and vegetables
Plus puzzles, stickers, hidden object and selection pictures and much more
33 recipes around the cheerful vitamin bombs Rike Beetroot, Branko Broccoli, Finochio Fennel, Kira Carrot, Basti Parsnip, Anne Apple, Massimo Corn and Tadeus Tomato from football world champion chef Holger Stromberg
With short stories for each recipe - by the renowned children's book author Gaby Grosser
Comprehensive parents' guide - with articles on healthy child nutrition and practical everyday tips from family therapist Jesper Juul, pediatrician Dr. med. Renz-Polster, futurologist Hanni Rützler, Holger Stromberg and book author and journalist Anna Funck
Lovingly illustrated by Martina Leykamm, initiated and edited by Gerd Truntschka
Recommended age: pre-school and primary school children
Hardcover edition, 176 pages, Verlag Südwest, language German
A cookbook for the whole family - cooking together is fun!